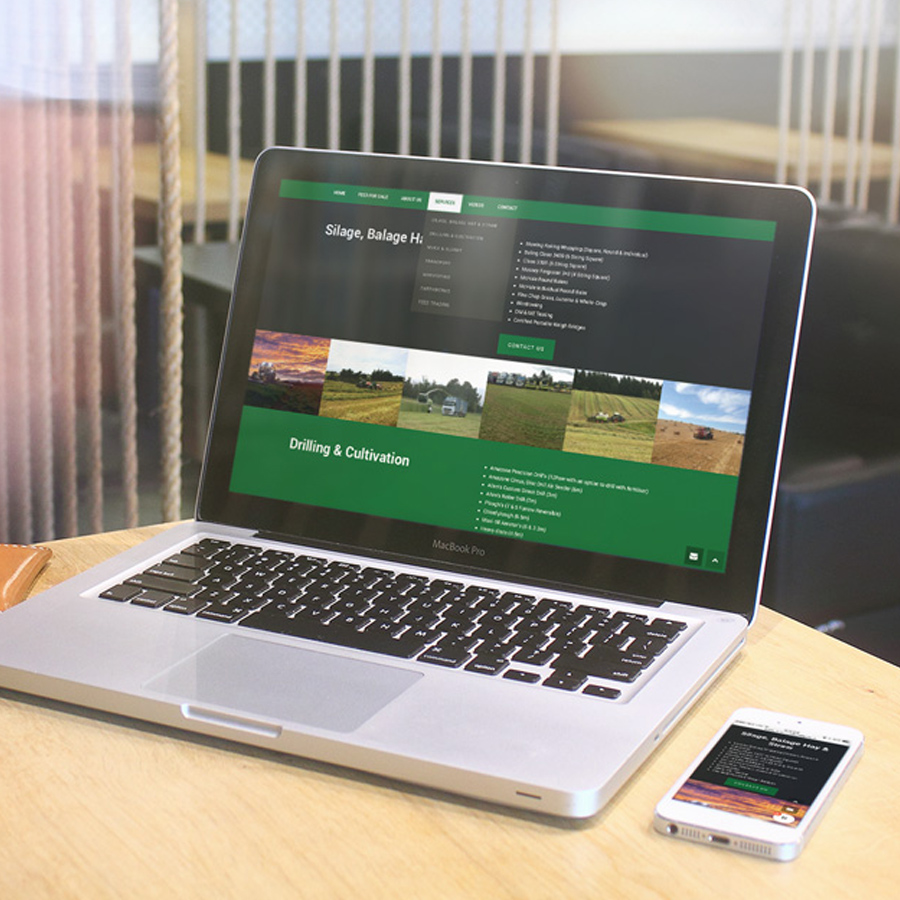 Scott Simpson
Scott Simpson Contracting owned by Scott and Lisa Simpson provides high quality agricultural services to the North Otago area.  We were contacted to design a fresh brand identity (logo) and create an effective website to promote the company's contracting and straw trading services online.  As it was peak season and there was a need to quickly advertise the feed for sale, we were tasked to provide these assets within a short time frame.
Our brief was to creatively design a logo and supporting icon element which would be clear and easy to read on machinery and edgy.  To achieve this, font selection was critical, along with branding colours that complimented the agricultural industry and resonated with their loyal client base.
Like many contractors, their modern fleet of machinery travelling around the local district is one of their most effective forms of marketing to prospective clients.  So for Scott Simpson Contracting, the application of their brand livery on vehicle and signage was of most importance.  Our creative designer Justine Tull kept this core requirement in mind to develop a clear and solid icon, to suit the hard working equipment and quality services provided. We designed an icon that represents a stylised wheat head and also represents tractor tyre marks.
The Scott Simpson Contracting website needed to showcase the extensive range of contracting services they provide and showcase "feed for sale" including quantities and specific product details.  This functionality allows a customer to search of the type of feed they are looking for from anywhere in New Zealand and for an enquiry to be sent through to their Operations Manager, who will discuss their order along with freight options.  With the rural audience varying in age demographic, a sleek, clean and easy to navigate website was designed using the bold colours from the logo, along with the angles of the icon.
Large hero images and a gallery showcasing the up to date equipment used are featured on the website.  As with all our websites, this one has a "responsive design" which ensures the website looks great on a PC, tablet and phone.
At JFM Marketing and Design, we can help businesses of all sizes with their marketing requirements throughout New Zealand.  If you need a logo, website or any marketing collateral to promote your business, give us a call!