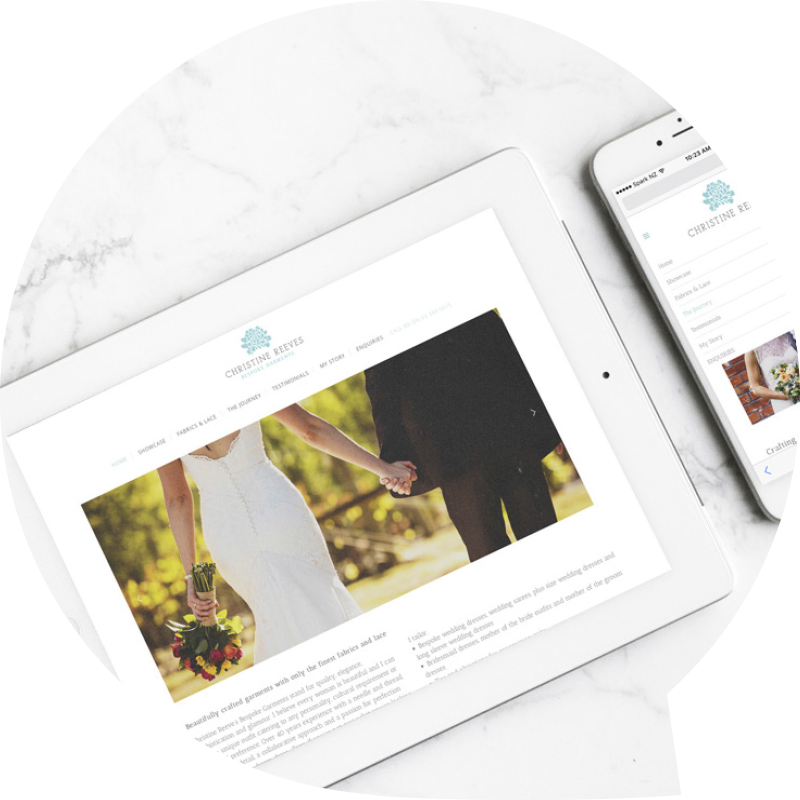 Beautiful bespoke garments by Christine Reeves
One of our clients, Christine Reeves makes the most exquisite wedding dresses for all types of wedding themes and personal style preferences for brides from diverse cultural backgrounds. As we got to know Christine, we got to see her passion for her craft and how much pleasure she gains from seeing that special smile on a brides face when they try on their dream wedding gown for the very last time before their big day. Christine also creates bridal party outfits and bespoke corporate wear.
During our consultation, we were briefed to create a digital strategy for Christine, give her some pointers and to consider her audience. We started by assessing the photography she had on hand and selecting those that showed her range of talent, as well as the diversity of her audience.
We dedicated a page to "the journey", which explained the thorough consultation process that occurs over several weeks between Christine and her clients. This can include Pinterest boards, family members, swatches of fabric and magazine clippings. Christine also sources her own fabrics and laces from master textile producers from all over the world.
JFM Marketing + Design thoroughly researched keywords, to ensure that the website lists well. We wanted to make sure we really captured the essence, talent and dedication to customer service offered by Christine. Our design needed to be clean, fresh and classic to emphasise the high quality, unique products hand tailored by Christine. If you are a specialist looking for an agency that can work with you to articulate your craft online, contact JFM Marketing + Design.